GT40P/2091 belonging to Pathfinder attends the Amelia Island Concours
Posted on Tuesday 03-12-2013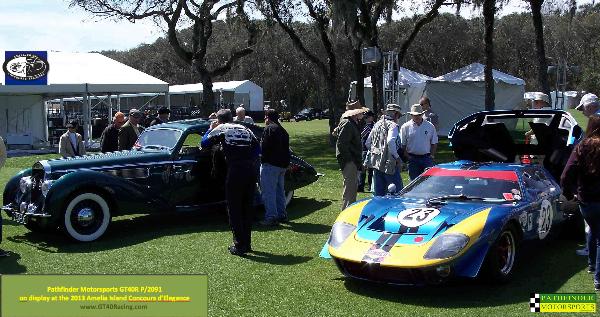 Pathfinder Motorsports was honored to have been invited by the organizers of the 2013 Amelia Island Concours d'Elegance to display there GT40R P/2091 at this year's '50th Anniversary of the GT40'. At the show were several of the most celebrated GT40s ever raced, including P/1075, so you can imagine how pleased they were to be the only non-vintage GT40 on exhibit Saturday before the main event.
A Ford GT40 seminar was held on Saturday with such GT40 luminaries as Dan Gurney, Brian Redman, David Hobbs, John Horsman (former John Wyer Racing Team Manager), Bob Bondurant and Pathfinder Motorsports' race building partner Lee Holman. It was a spell-binding lecture and discussion by these racing icons.
Thank you to Pathfinder and all our loyal customers from around the country who came out and supported us at this event we look forward to visiting with you at future events and races!