1st and 3rd Place awarded to Superformance MKIII's at Detroit Autorama 2013
Posted on Thursday 03-14-2013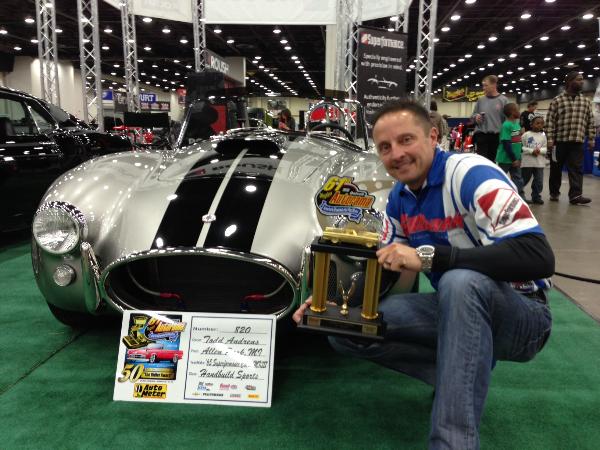 2013 marked the 61st Detroit Autorama Annual custom car show. The Hot rodding and custom car community consider the "Ridler" award which is presented at this show to be one of the most prestigious. With this year being the 50th anniversary of the award the entrants were celebrating a historical moment.
The Ridler award attracts the attention of the finest custom car builders in North America who unveil their vehicles for the first time to qualify. This year it was awarded to Ron Cizek's, 1940 Ford Coupe dubbed checkered past. A news release from Autorama stated that the judges noted the car for its blown Ford flathead V8, body work and attention to detail including handmade trim, spectacular chassis and a unique three-stage paint job that used shades of red, gold and brown.
In the Hand built sport category was a Superformance MKIII belonging John Walters. This car was displayed in the Roush booth and is powered by a Roush 402R engine with custom Roush Valve Covers and Air Cleaner with Billet wire looms. This Superformance MKIII number SP02142 is painted in titanium with a twin black stripes. The car has 15" Halibrand Style wheels, roadster sytle bumpers and a number of standard Superformance features. Congratulations to John on his 1st Place win amongst stiff competition.
Close by an older but immaculately kept Superformance SPO468 was on display as a Feature Vehicle by the Owner Chuck Grech. This Stunning red beauty was awarded a 3rd place in the Hand Built Sport section making it a double win for Superformance.
Congratulations to our two Superformance Owners and well done to all the other winners. We would like to thank everyone who came out and supported us at the show.