The Superformance MKII Slab Side. This $100,000 Cobra Is Vintage Shelby Heaven
Posted on Monday 12-07-2015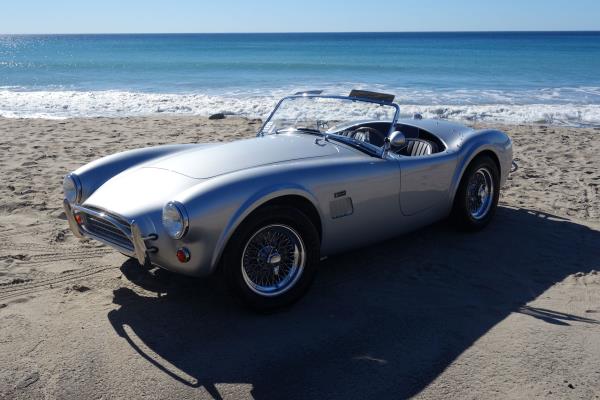 "Superformance's 375-horsepower MKII Slab Side roadster combines the best of American power with British design in a like-new package (because it is)..."
Published by Hannah Elliott - Bloomberg Business:
"Owning a vintage car is like being in a dysfunctional relationship. It can be purring along perfectly one moment, all systems go, and totally inoperable the next.
In both cases you may find yourself standing on the road next to something (someone) fuming and distraught, making loud noises, and threatening to leave you stranded indefinitely.
Here's one solution: Drive something that looks vintage but whose modern underpinnings afford daily reliability and practicality.
Enter the Superformance MKII Slab Side Cobra, a glamorous little roadster built by the California -based company with official licensing provided by Shelby.
The car was designed to emulate the great Cobra 289 streetcars from the golden era of racing in the 1960s. Those had been based on the aging British roadster, the AC Ace, which had a 289-cubic-inch, small-block Ford engine; new designs gave the Cobra cooler front fenders and side air vents and that iconic nose. Now, decades later, Superformance has made roughly 4,000 of its front-engine, rear-wheel-drive tribute car.
With its 375-horsepower Ford V8 engine, classic Tojeiro-styled round-tube chassis, authentic transverse leaf spring suspension, and super lightweight body, this car is perfect to have on hand for after-hours jaunts and weekend thrills. I drove it for hours up and down the Pacific Coast Highway recently, and it was by far one of the most fun cars I've driven this year.
When you jump inside (and I do mean jump, since the tiny doors are so low they're rather perfunctory anyway), you'll love how the thin, slim steering wheel, plump leather seats, and smooth, short transmission all work in happy harmony to offer probably the most authentic driving experience you'll have had in years.
The steering, brakes, windows, and locks are all sans power, as the good Lord intended—that's where that authenticity comes in. Driving this rogue means you'll be cranking the wheels around corners and jumping on the brakes far earlier than you would in anything with power braking. But all the effort is worth it, both from a pure performance standpoint and because your arms and calves are going to be deliciously chiseled after all the effort.
The MKII Slab Side that I drove cost roughly $100,000, which includes the $70,000 chassis sent over from a factory in South Africa and the additional cost of the engine, installment, and gearbox. That number also includes such extras as the ceramic-coated exhaust pipe ($1,175), the heating and defrost system ($1,450), the leather interior ($1,995), and the soft ragtop ($2,595), to name a few.
It is all engineered so perfectly that you can have a normal conversation in the cockpit even at highway speeds, and it has all the little details the original car had in the U.K.: right-side turning indicators, tiny rear-view and side mirrors, a hood that opens opposite the front, latch-lock seatbelts, and dozens of hand-made knobs on the center console.
My only complaints? The fuel efficiency isn't great (only 14 mpg in the city and 18 on the highway), and the clutch is basically not drivable if you're short. I had the front seat moved as far forward as possible and at just under 5'11'' could barely reach the pedals myself. Thank god for long-gene DNA.
If you want one of your own, though, place your order now. It takes six weeks to make them, and the wait list is about four months long. Which is understandable, after all. Good things—like good relationships—are worth the wait. "
For the full article a video and some pictures please click onto the following links.
http://www.bloomberg.com/news/articles/2015-12-07/superformance-mkii-slab-side-cobra-review-video
http://www.bloomberg.com/news/photo-essays/2015-12-07/up-close-with-the-superformance-mkii-slab-side-cobra-photos