Superformance MKII Roadster graciously donated to the Peterson Museum by Superformance Corporate
Posted on Thursday 09-24-2020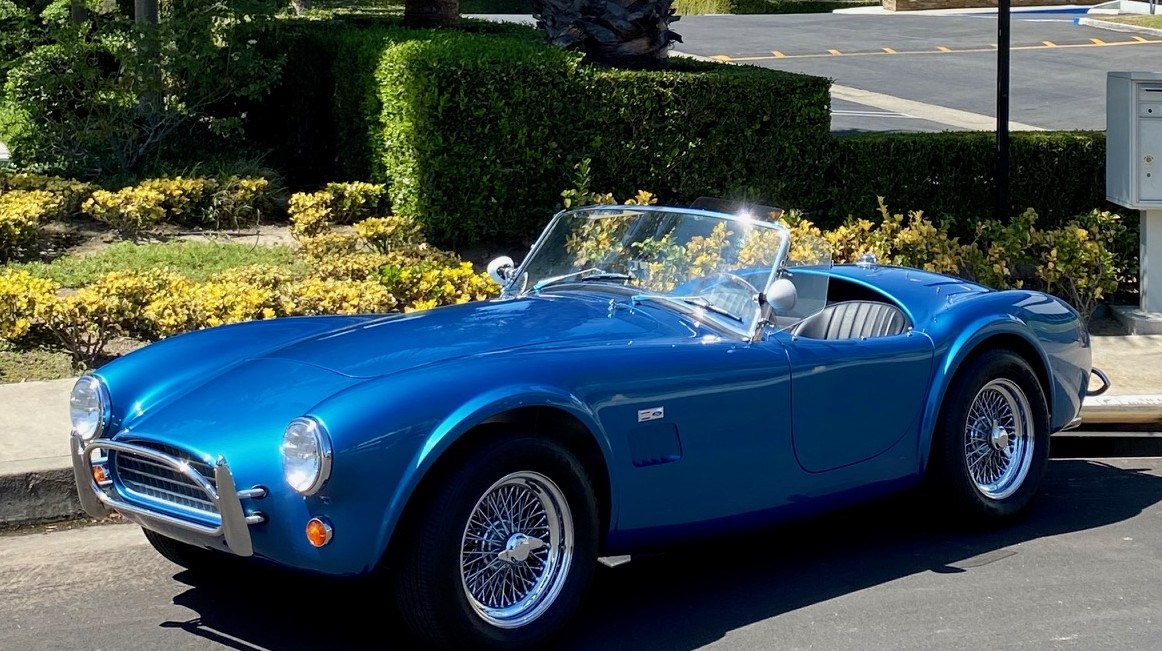 Superformance Gifts MKII Roadster to be Auctioned During
Petersen Automotive Museum Online Gala Fundraiser
The Sale of Superformance MKII Slab Side Roadster will benefit America's leading auto museum
Donated by Superformance head office on behalf of owners, fans and dealers worldwide
Comes equipped with a 388-horsepower small block Ford V8
Car will be documented in the SCOF Registry
IRVINE, CALIF. – September 23, 2020 – Executives with Superformance have donated a MKII "Slab Side" roadster to the Petersen Automotive Museum, which the non-profit will auction during its annual fundraising gala on September 26 in Los Angeles. The lightweight roadster is a tribute to the first Shelby Cobra, CSX2000, which was owned by sports car manufacturer and Le Mans champion Carroll Shelby. Weighing a scant 2,200 pounds with a powerful Ford V8 engine, the classic continuation roadster is a fast, fun and beautiful celebration of the golden era of sports cars.
"As a proud partner of the Petersen Automotive Museum for over a decade, we're honored to gift them this gorgeous classic roadster," said Lance Stander, CEO of Superformance. "Since 1994, the Petersen has celebrated automobile culture and artistry around the world. We donated the MKII because it embodies the spirit of one of So Cal's greatest automotive heroes, Carroll Shelby. He was a great friend of Bob Petersen, who founded the museum, so it was fitting to gift a car that honors Carroll's legacy and raises funds to help the Petersen Museum thrive for generations to come."
A 501(c)3 non-profit, the Petersen Automotive Museum is dedicated to the preservation and presentation of the automobile and its impact on culture and society. Over the last 26 years, the Petersen has educated millions through its interactive programs and engaging exhibits.
The Petersen, which closed on March 15 due to COVID-19, brought its collection and programs online. The museum's annual fundraising gala will also be a digital event and will be broadcast online on Saturday, September 26. The virtual event will combine many components of the museum's famous in-person galas with special guests and auctions. This evening will also feature 45 minutes of exclusive content, footage from the museum's digital archive and the auction of the Superformance MKII roadster.
"Lance Stander and Superformance LLC have been partners of the Petersen for several years," said Petersen Automotive Museum Executive Director Terry L. Karges. "We are grateful to announce the company's donation as well as the other auction lots for our 26th Annual Gala Celebration, which is our largest fundraising event of the year."
Like the first Cobra (CSX2000) built and marketed by Carroll Shelby, the MKII Roadster (serial #SPS0036) is a stunning 289 Slab Side clad in Guardsmen blue. Built aesthetically and dimensionally correct to the small block Cobras built in Venice, California, this car features authentic era touches like a brass windshield that was nickel plated and chromed, along with a set of chrome bumpers, hood latches, headlights, turn signals and the original style aluminum grille.
SPS0036 has 4-piston Wilwood disc brakes and silver wire wheels wrapped in performance tires to give the car an authentic feel. The roadster has a 388-horsepower small block Ford engine mated to a Tremec 5 Speed manual transmission. The car's drivetrain was sourced and installed by Sports Car Classics of Newbury Park, California.
The cockpit's leather wrapped dash is adorned with period-correct Stewart Warner gauges that are manufactured new to the original size and laid in the correct location. The wood-rimmed Mota Lita Steering Wheel, chrome carriage style door catches, lined glove box and chrome grab handle are a throwback to a simpler time.
"The Superformance MKII 289 Slab Side is an authentic Shelby licensed vehicle," said Stander. "It's modeled after the original car, but with modern upgrades in materials and design that incorporate safety and performance improvements without sacrificing driving excitement or originality."
Superformance offers a full line of high-performance cars. Sold as a rolling chassis, each Superformance car can be configured for heritage or modern drivetrains. The Superformance MKII roadster minus engine and transmission starts at US$69,900 and only 400 cars are built per year. The selection, purchase and installation of the drivetrain are the responsibility of the purchaser. A completed roller will run around $90K depending on options.
Orders are now being accepted. For more information, visit www.superformance.com.
To bid on the car at auction with proceeds to the Petersen Automotive Museum https://bringatrailer.com/listing/superformance-cobra-replica/