Superformance fits a Coyote engine into a MKIII Blending the Old and the New
Posted on Thursday 12-09-2010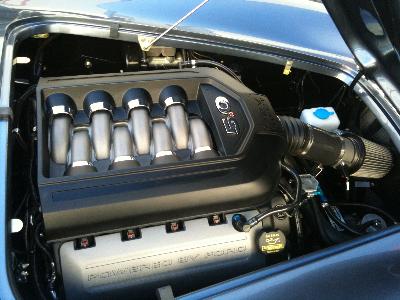 With one award-winning crate engine application under their belts, the folks at Superformance have added another new engine option to the order sheet of their MKIII that is sure to ignite the passions of blue oval fans everywhere.
The recently released 5.0-liter "Coyote" engine introduced in the 2011 Mustang GT is now available in the Superformance MKIII, offering modern economy, emissions, tractability, durability and reliability in this iconic lightweight roadster. And with 412 horsepower on tap, the 2,300 pound MKIII should outperform just about anything else on the road too.
The Coyote engine option joins the previously announced General Motors Performance Parts E-ROD engine package, which won the Editor's Award from Kit Car Builder magazine in its public debut. While some customers will always prefer a tried and true carbureted V8 in their Cobra replica, these modern engines provide a more usable alternative for folks who want to drive their MKIII every day. Just hop in, turn the key and drive away – enjoying outstanding performance, no hassles registration and excellent fuel economy as well.
These modern crate engine packages answer the concerns of those who may be hesitant to enter the kit car hobby due to fear of registration difficulties. It's a simple way to have the performance you expect from a classic roadster, with none of the hassles. With a simple turn of the key you have 400-plus emissions-compliant horsepower under your right foot any time you want it. Fast and reliable, with the fuel economy and low emissions of a new Mustang or Corvette, the Coyote and E-ROD Cobras outperform expectations and just about anything else on the road.
Available today from your local Superformance dealership, the Superformance Cobra MKIII with the Coyote crate engine brings modern technology to classic sports car enthusiasts.