Shelby America Announces a 50th Anniversary Shelby Cobra Daytona Coupe
Posted on Friday 07-17-2015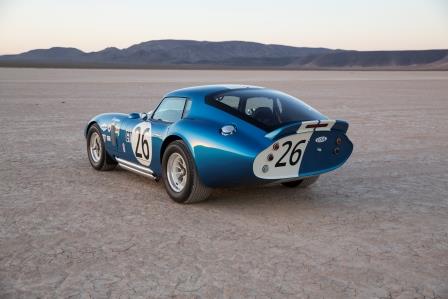 This is a unique opportunity to own and enjoy a limited edition Shelby Cobra Daytona Coupe. We urge you to act quickly if you are considering a purchase as these editions are limited to only 50 worldwide and it goes without saying that they will sell out fast.
The anniversary Shelby Cobra Daytona Coupe is available in either Fiberglass or Aluminium. These exclusive models will all carry a Shelby American CSX serial number from CSX9950 –CSX9999, for documentation in the official Shelby American Worldwide Registry. Each component vehicle is built to order and is delivered as a rolling chassis. The fiberglass Shelby Daytona Coupe which includes air conditioning, central locking, power windows and power brakes, is priced from $179,995, excluding the drivetrain. The price of the base aluminum Shelby Daytona Coupe, excluding drivetrain, is $349,995. There are a number of engine packages available, please contact us for more information.
Both versions of the car will debut at California Monterey Car Week events in August 2015 including the Gordon McCall's Motorworks Revival on August 12 and they will also be displayed throughout the weekend at the Rolex Motorsports Reunion inside Mazda Raceway at Laguna Seca. We urge you to get your pre debut order in before they all sold.
Contact us at info@superformance.com to reserve yours today.
For Historical information on the Coupe.: