Roberto Berdiel's 1963 Grand Sport Tribute - "My Utopia"
Posted on Tuesday 06-13-2017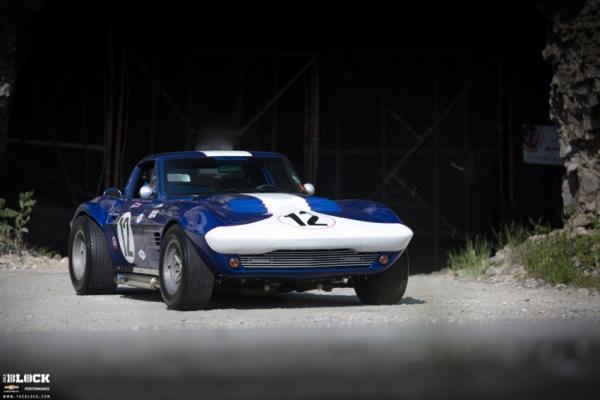 The Block: 2017-06-12
Vehicle belongs to Roberto Berdiel.
Corvette Grand Sport built by Superformance
Powertrain installed by V's Performane.
Chevrolet Performance LS376/525 crate engine.
.."Original Grand Sport Camaros have skyrocketed to astronomical values, which makes sense considering only 5 original cars were produced for the 1963 model year. So what do you do to create that nostalgic feel with breathtaking looks and power? Well, if you're like Roberto Berdiel, you don't clone an original Grand Sport, you build a tribute car, like his Superformance Grand Sport. These cars offer up that genuine look and feel, while being more mechanically reliable, and most likely, faster.
While walking the grounds of Arrowhead Stadium in Kansas City, Missouri, this mean muggin' Grand Sport popped out amongst patina' d classics and F-bodies. The low, wide stance had us asking more questions than we could answer ourselves. Luckily, a gentleman started shouting for us from across the parking lot. As it turns out, it was Roberto and he remembered one of our photographer's from a Power Tour years ago. We spoke with Roberto briefly and learned that lurking under the hood was a Chevrolet Performance LS376/525 crate engine.
We immediately asked if Roberto could follow us out to a photo shoot location we spotted earlier in the day. As he followed us we could not believe how great the car sounded. It really did sound like a race car, of which this car is a tribute of. Also while behind us, we could hear the rev of the engine as a clutch was released signifying Roberto was driving a manual transmission. The short drive out to the photoshoot location had us dreaming of owning a classic beauty such as this Grand Sport with loud side pipes, a manual transmission and a powerful and reliable Chevrolet Performance crate engine. After we spoke with Roberto, he had the exact same thoughts when getting this car built.
Powering Roberto's Grand Sport is a Chevrolet Performance LS376/525 crate engine(link is external). The LS376/525 builds upon the reliable performance of the LS3 we've all come to know and love but Chevrolet Performance took it a step further with an ASA camshaft with .525-inch lift on both sides, along with 226 degrees of duration on the intake side and 236 degrees on the exhaust side. It's coupled with a tight, 110-degree lobe separation angle, which helps the engine deliver excellent throttle response and breathe exceptionally well at high RPM. And for durability, Chevrolet Performance complements the cam with higher-rate valve springs. Trust us when we say this, with a free-flowing, stainless steel, side exit exhaust, the engine sounds like a dedicated race car.
We asked Roberto why he went with that engine since Superformance offers several drivetrain options, "That was the really cool part for me when I worked with Superformance on this build were all the options available to me. You could get a carb'd small block all the way up to the biggest baddest fuel injected engines. I bought the LS376/525 two years ago before the LT was really out, but I love it, it's perfect. My favorite part about it is the fact that it's reliable. I didn't touch it, it's the same engine we pulled out of the crate. Plus, 525 horsepower is plenty for a car weighing less than 3,000 lbs."
Roberto's Superformance Grand Sport also had several options for transmissions, interior, rear end and much more. Roberto customized his with a Chevrolet Performance T56 Super Magnum(link is external) six-speed manual transmission so he could row his own gears that spin a Detroit locker posi rear. Standard equipment on Superformance' s Grand Sports are fully independent front and rear suspension with Bilstein coil over progressive shocks and H&R springs, along with four-wheel vented disc brakes. Roberto's car features 6 pot front and 4 pot rear calipers. These Grand Sports also feature a rack and pinion power steering setup. Adding to the car's incredible stance are the magnesium wheels modeled after the originals, which were also 15", really bringing the vintage race car look full circle.
Roberto opted for those cool retro side mirrors, an option from Superformance to keep the car as much as a tribute as possible, as well as other neat nuances like the leather hood straps that were required back at Sebring when the original cars raced. Inside, Roberto's A/C vents are somewhat hidden to again look more original, much like chassis #3 that this car is modeled after.
"All the stickers and paint are correct for the chassis #3 original car, but the number is different. I went with 12 because my wife was born on the 12th and I wanted to commemorate her," Pablo told us. He went on to talk about why, of all cars, he landed on a Grand Sport tribute, "I had looked for Grand Sports for a while. I bought one several years ago and luck was not on my side and I ended up losing it. Superformance came around with correct molds and a dedication to the original cars and I couldn't pass one up. It took four years, and I just got it three weeks ago, but man it was worth it. The stance, the handling, and the power for the crate engine are exactly what I dreamt of. I believe the car is the utopia of what I wanted," he concluded. .."