FAR MORE THAN A SHELBY REPLICA: DRIVING THE SUPERFORMANCE COBRA MKIII
Posted on Monday 04-24-2017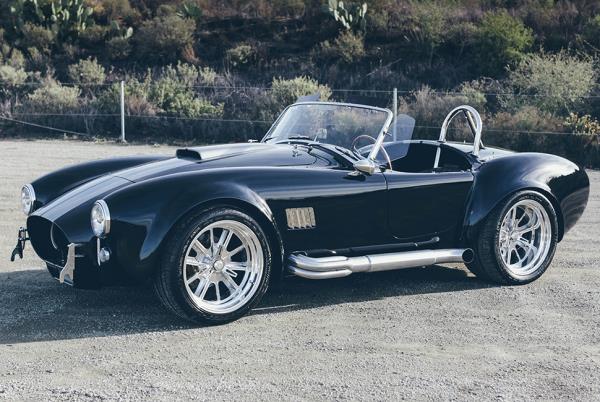 Source: Gear Patrol
A minivan or Prius, those I will never drive," says Ashton Stander, as we sit side by side in a rumbling small-block 427 Superformance Shelby Cobra, stuck at the light at Portola and Bake, in the Orange County suburbs, a land of minivans and Pri-i. My teeth are chattering from engine reverberations. I keep my eyes forward; last year, I owned a Prius. But at the helm of one of the greatest sports car designs in automobile history, with the son of the man who is singlehandedly bringing them back into circulation, I'm not in a place to discuss the reasons for that wonderfully pragmatic choice. The light changes, I shift into first, drop the accelerator, and rumble myself out of a reply. Gasoline fills the cockpit. Engine noise and air flow drown out conversation.
Know this: I don't have real Shelby Cobra money. Neither does Ashton and neither does his dad, Lance Stander, CEO of Superformance, maker of this Carroll-Shelby-approved replica. And know this: if you feel that replicas are just the bastardization of original, you're right. A replica isn't an original. And you're wrong. Replicas aren't bastards. And if they are, finally, know this: driving a Cobra on a Sunday morning through carving and underpopulated roads is the birthright of every person born in the era of the automobile. You need this sensation. There's some sub-cortical connection to this exhaust sound and the rumble that envelops you in a embryonic rush of sensory satisfaction. I could stay here all day. And Lance Stander believes that you should have a chance to, too.
So. Sticker price for a replica Shelby Cobra: $84,670. That's for a black Shelby Cobra MKIII Sports Coupe with a Ford Racing 427CID Windsor 535 horsepower engine and a Tremec TKO600 5-speed manual gearbox. That's for a hand-laminated fiberglass body, side exhaust pipes, stainless steel roll bar, a Moto-Lita wood steering wheel, Smith gauges, Lucas switches, leather seats and a carpeted interior and trunk. $84,670 to own a version of one of the greatest American sports car ever. That, for you and for me, is within reach. And though Superformance has customers who are filling an empty spot in the back corner of their acre-sized garage, he also has customers who have lived their whole life dreaming of owning the dream, and now they've sold their car, sold their wives' car, sold their kids' car and are buying this and dammit, if they only get to drive it from 68 to 72 that's four years in the greatest ride of their life.
After driving his rumbling beauty, I talked to Lance Stander, the man bringing back the greatest American race cars, about his motivations for reviving these iconic automobiles (did we mention he makes GT40's, too?).
Q:Let's start with a bit of your history and what got you into this business.
A: So I came from South Africa approximately 19 years ago. I ran the largest Accident Damage Salvage Company in South Africa. We have 13 branches, 500 employees or something like that. When I came to the States I just wanted to do that — to start Salvage Accident Damage here.
When I saw how massive the companies were in the US and I saw the challenge I'd be up against, I decided, well maybe I'd want to go and try different fields. And I heard about a Superformance dealer in California that wasn't performing, and Superformance offered me the franchise. Initially, I wasn't interested, until I found out what Cobras sold for in the US. Even 19 years ago, Cobras were selling in the $50,000 range.
So I said, "Well okay, this might make sense." And we started as a dealer in Costa Mesa and we called it Hillbank. Hillbank is the company that my dad started in South Africa in 1977, on the hill next to the bank. And he called it Hillbank. And it was a dealer for high-end cars.
So in 1999 we opened in Costa Mesa, California. And in 2004, HiTech, the factory in South Africa that owned Superformance USA, wanted to sell distribution rights. And initially I negotiated the distribution rights for Superformance. And then they said, "Well, if you want to own the whole lot — tooling, cars, everything — you can. So we agreed on a price and I bought it.
But I wanted to change the way Superformance was positioned. All we had was a replica of the Daytona Coupe. And I wanted to get away from the replica idea. We started talking to Carroll in 2003 and 2004. And part of the deal when I bought Superformance was that I wanted to negotiate a deal with Carroll to build the Shelby Cobras. To build a car that's not a replica, but a continuation.
And now that's the emphasis of Superformance — to not only build replicas but actual, licensed continuations.
Q:What about these cars gets you excited? What draws you to working with these particular models?
A: You know, I think these were really the last pure art, with power. Put it this way — the '50s cars are beautiful. I love old cars; I love going back to the '40s and '30s and looking at all those cars, but if you look at the '60s through the '70s — those were the more minimalist cars. They had as much horsepower as you could possibly put in them and they were as light as possible. Both on the European side and American side. Of course with the '70s came all the emissions and regulations and that really killed the car. And the modern cars have just become so perfect.
I love the '60s car because the shape of the Cobra is a shaping that will last forever, same with the 911 and 308 Ferraris. And on a '60s car you have a big engine, body and very little else, and you get a real sensation when you drive one.
Q:Right. It's just such a visceral driving experience. So tangible. Even sitting at a stop light is a good time.
A: Yeah, you know, people ask me why would somebody buy a Cobra from you for over $80,000? You could get a Porsche or you could get a Corvette for that. And, my god — in my eyes Porsche is probably the finest sports car in the world. And the Corvette is the best-value sports car in the world. But with those you become part of everybody that's got a Corvette and everybody who has a Porsche. And they depreciate at a hell of a rate. You pay $80,000 to $120,000 when you buy it, and within a year or two it's worth 50 percent of what you paid for it.
That's not the case with our car. Ours are unique and exclusive, and they don't depreciate. After a couple years they increase in value.
Q:You're a bit of a Robin Hood figure with Cobras, like — you're allowing people who otherwise would be completely priced out — by a lot of zeros — to buy a car they have loved for a long time. You're giving them the opportunity to enter into that market for under $100,000.
A: You couldn't be more right. You have nailed that thing right on the head. We have changed people's lives. People ask me, "Do you sell to the super wealthy?" And I say, you know, we sell across the board. I have a ton of blue-collar owners that buy a Superformance car.
Q:I talked to your son about it on the drive, and he was saying that sometimes you'll get guys that have two cars, you know, a minivan or a truck or something like that, and in retirement they'll sell both and they'll just have a Superformance Cobra. Just as their daily driver.
A: Yah, well, a lot of customers have waited 40, 50 years and seen the Cobras for that long. And they wait for the kids to be out to college and all that. And a lot of the time they end up getting past 60 and then I say, "Good god, how many good summers do you think you've got left?" You know? You should buy the car now and enjoy it.
And, you know, that normally strikes a chord in them and they're like, "Okay. This guy is making a point. I'm no longer 40, I'm not 50 either, I'm now 60; am I still going to be driving at 70? How do I know? So let me get that car out and enjoy it."