Yokohama dealer wins a Superformance in a Black Jack tournament
Posted on Wednesday 11-19-2008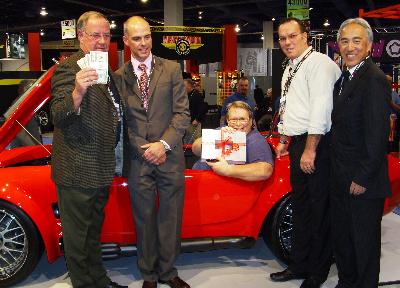 SEMA 2008: Yokohama tire dealers compete in blackjack tournament to win Superformance MkIII Cobra
While many tire manufacturers were cutting back at SEMA this year, Yokohama decided to try positive reinforcement. At the SEMA South Hall more than 30 dealers gathered at the Yokohama booth to participate in a blackjack tournament with the grand prize being a brand new Superformance MkIII Cobra replica worth $70,000. This stunning Red rolling chassis was built in the MKIII-R color scheme and supplied by Hillbank Motor Corporation in California. To finish the MKIII a Roush 327ci V8 425 hp motor was expertly installed at Voss Performance who are also located in California.
Did anyone notice those 19" & 20" wheels with Yokohama S.drive tires, 245/35R19 front and 285/30R20 rear?
The Lucky new owner Terry Baker is the sales manager of Foree Tire Distributors in CO., finishing second was Scott Mc Clain of Lexington KY and third place went to Jeff Weightman of Las Vegas who both won cash prizes. Congratulations to all the winners. Well done Yokohama.