Superformance Corvette Grand Sport Steals the Spotlight at 2010 SEMA Show
Posted on Friday 11-12-2010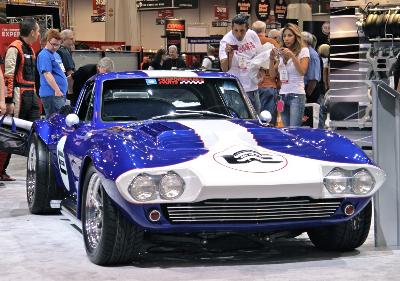 The star of the GM booth at this year's SEMA Show in Las Vegas was undoubtedly the Superformance Corvette Grand Sport E-Rod show car. When the cover was lifted off this classic continuation Corvette, many thought it was one of the five priceless originals. On closer inspection folks realized it was in fact a modern-day Grand Sport with a thoroughly modern General Motors Performance Parts E-Rod engine under the hood. In this case, the supercharged LSA that is also found in the Cadillac CTS-V. With 556 horsepower, this 2,400-lb Corvette Grand Sport promises performance that should rival or even surpass the originals, while still meeting emissions standards.
Few vehicles stir more emotion in the hearts of racing enthusiasts like the 1963 Corvette Grand Sport. These legendary lightweight racers were built under the direction of Zora Arkus-Duntov, the father of the Corvette. When General Motors heard that the planned 125 units would be made available to privateers, they scrapped the program...but not before five race cars were completed. Although they were ordered to be destroyed, all five went on to race and all five survive to this day. Their mystique and value have grown greatly over the years, pushing them out of reach of the average enthusiast.
Renowned continuation and replica builder, Superformance LLC, has just brought the legendary Corvette Grand Sport back within reach. Thanks to their partnership with Duntov Motor Company and licensing from GM, Superformance has accurately replicated the Grand Sport in a way that can properly represent the brand – a proper continuation series that honors the historical significance of Chevrolet and the Corvette Grand Sport legacy. The Grand Sport made its public debut at the 2010 SEMA Show in Las Vegas on November 22nd.
Superformance and Duntov Motor Company have painstakingly reproduced the chassis, body parts and all accessories needed to replicate this extraordinary car. Both street and race versions of the 1963 Corvette Grand Sport are available, with the support of EMI, licensing from General Motors and drive train expertise from General Motors Performance Parts assuring their authenticity and heritage. The Superformance Corvette Grand Sport coupe or roadster is now available as a complete TKM [turn key minus] vehicle, awaiting the customer's choice of engine and transmission.
While the 1963 Corvette Grand Sport originally raced with several exotic engines (ranging from a "stock" 360-horsepower, fuel-injected 327 CID to the legendary 550-hp, all-aluminum, 377 cubic inch, small block with four Weber side draft carburetors), today's Grand Sport is much more practical, dependable and drivable.
Through their General Motors Performance Parts partnership a variety of GM crate engine options from small to big blocks are available for your Superformance Corvette Grand Sport. Superformance, HI Tech and GM are working very closely to assure factory-like fit of GM's LSA engine with 6 speed transmission. GM's tireless efforts in this regard are spearheaded by Dr. Jamie Meyer, Head of Product Integration, Steve Felix, Mike Copeland and Cliff Cohen.
The GM licensed Superformance Corvette Grand Sport coupe and roadster TKM are available, place your order by contacting info@Superformance.com or though select Superformance dealers.