Superformance Cars and Owners @ the Shelby Tribute and Car Show in CA
Posted on Monday 05-13-2013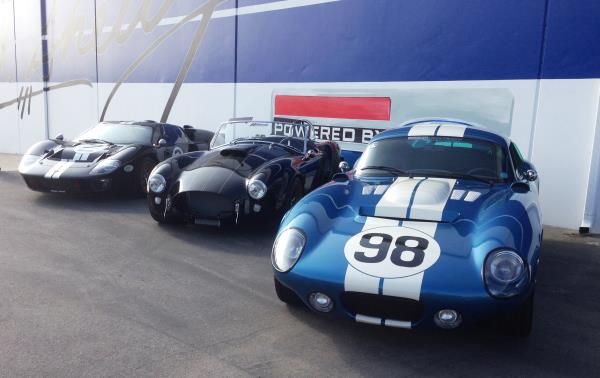 The Carroll Shelby facility in Gardena was the hive of activity on Saturday, May 11 where thousands of Shelby enthusiasts came to honor Carroll Shelby for a Tribute and Car show, one year and one day after his passing.

The parking lot was packed with Mustangs and Cobras, but there were also a few GT40's, Tigers and Pantera's lined up for the car show which took place a little later in the day. Shelby hats, shirts and cars were everywhere and many fans eagerly shared there "Shelby stories". The Gardena Shelby Facility housed Carroll's office, The Shelby Foundation, Shelby Licensing and The Shelby engine shop for many years. We were fortunate enough to be able to tour the engine shop on our arrival. We were impressed with the updated facility which now includes a gift shop. Fans flocked into the gift store which had just opened to where it was stocked to the brim with a number of items including, wine, mugs, hats, shirts.

Hillbank a Superformance dealer in Southern California attended the event with a new 20th Anniversary MKIII, a CSGT40 and a Daytona Coupe. There were a number of Superformance Owners and cars at the event. The Superformance MKII, MKIII and Daytona Coupe are Shelby Licensed products.

We talked to original owners, including winning Cobra owner Hank Williams who has owned his blue-grey 289 Cobra since it was new and Alan Grant who raced a cobra in the 1960's.

The event included a beer and wine garden, chili and hot dogs, and a panel discussion with Cobra racers Bill Krause, John Morton, Allen Grant, Henry Ford III, John Luft, and the "Snake" drag racer Don Prudhomme.

A couple of rare original Cobras were proudly being displayed including Bruce Meyer's first production Cobra and Andre Ahrle's amazing recent restoration of the Essex Wire Cobra which won Best in Show. Tom Shaughnessy's original breathtaking GT40 was also on display.

At one o 'clock in the afternoon you could hear the roar of engines as everyone in attendance remembered there legend Carroll Shelby with a engine rev salute. This was a fitting tribute to an American Legend. We look forward to this event next year.