Thursday
03
03, 2022
Concours D'Elegance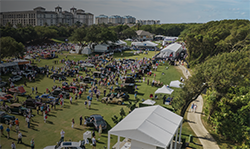 Can you smell that? That's the blend of old paint, perfectly worn leather, and just a hint of gasoline? That must mean it's time time to experience the one and only Amelia Concours d'Elegance show. On March 3rd through March 6th, hundreds of historically famous vehicles will be displayed and vying for different awards & accolades. This exclusive charity event, is held each year at The Ritz-Carlton Amelia Island in Amelia Island, Florida. It's an event you and the family are not going to want to miss! If you make it, don't forget to stop by the Superformance's booth and say hi!
The Concours d'Elegance History & Details
March 3rd to March 6th
A Jacksonville native, Bill Warner, had a long, successful career in the automotive industry. In 1996, Amelia Island reached out to Warner in hopes of building an automotive event on their campus.
The inaugural event took place in April of 1996. Warner used his connections in the automotive world to attract personalities from across the automotive industry.
The event's economic impact on Florida is estimated to be close to $30 million a year
It's raised $4 million for charity to date
Hagerty will take over hosting in 2022. It promises to bring the same celebratory, iconic energy, & delight to car lovers – of all ages.
Event Date: Thursday 03-03-2022